Golf Course Sprayers – for the Cushman® Turf Truckster® by Jacobsen®
OPTIMUM SERIES – VM160D/DS, VM225D/DS & VM300D/DS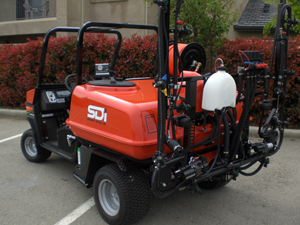 Low profile sprayers with commercial grade fiberglass tank and durable piston-diaphragm pump designed for pin mounting on the Cushman® Turf-Truckster® by Jacobsen®.
Specifications
OPTIMUM VM160D/DS
OPTIMUM VM225D/DS
OPTIMUM VM300D/DS
Fiberglass Tank
160 Gallons/600 Liters
225 Gallons/850 Liters
300 Gallons/1135 Liters
Sprayer Dimensions
56"L x 52"W x 25"H
56"L x 64"W x 26"H
56"L x 64"W x 30"H
Dry Weight
265 lbs.
300 lbs.
335 lbs.
Agitation
V-6 Hydro-Mix Jet
V-6 Hydro-Mix Jet
V-6 Hydro-Mix Jet
Spray Pump
30 GPM Triple Diaphragm
30 GPM Triple Diaphragm
30 GPM Triple Diaphragm
Pump Regulator
Micrometer Adj.
0–200 PSI/0-14 Bar
Micrometer Adj.
0–200 PSI/0-14 Bar
Micrometer Adj.
0–200 PSI/0-14 Bar
Pump Power
Standard or Hi/Lo Hydraulics
Standard or Hi/Lo Hydraulics
Standard or Hi/Lo Hydraulics
Standard Color
Jacobsen Orange
Jacobsen Orange
Jacobsen Orange
Cushman Mounting
2-Pin System
2-Pin System
2-Pin System
Special Features of the SDI Optimum VM Series Sprayers:
Pin mounts exclusively to the Cushman Turf-Truckster in less than five minutes. Uses the existing utility box hinge pins for easy attachment in minutes.
Custom molded low profile fiberglass tank has color-matched Jacobsen orange gel coat with UV protection. The tank features a large suction sump for OPTIMUM safety & performance (excellent for low solution levels and hilly terrain conditions).
300 gallon model VM300D/DS has the added feature of tank anti surge baffles.
16″ screw-in filler opening is offset to operator's side of the tank for easy loading of spray solution. Special pillow gasket and spring loaded vent assures leak free operation.
Unique tank top rear recess houses diaphragm pump and system controls for easy access and adjustments.
30gpm hydraulic driven three piston-diaphragm spray pump with built-in pulsation damper. Easily and safely handles all spray chemicals including wettable powders, iron formulas and even tracker dyes. This design allows the pump to be run without spray solution (dry) with no damage to the pump's diaphragms or mechanical components.
Operating spray pressures up to 200 PSI exceeds all turf spraying requirements and provides adequate pressure for "Walking Spray Booms" at the end of 200 feet of 1/2″ hose.
SDI's "Hydro-Mix" venturi-jet agitation with ceramic metering orifice discs provides high performance hydraulic agitation throughout the solution tank.
Daily vehicle maintenance is enhanced by the sprayer's design and mounting.
SDI designed oil cooler provides OPTIMUM hydraulic oil temperature during spraying, keeping pump RPM/GPM/PSI constant for accurate spray rate.
Optional "Quick Stand" Storage System available.
Select from a wide variety of custom accessories to complete your OPTIMUM sprayer package – solenoid, motorized, or computerized boom controls – Economy, Optimum or Shielded Spray Booms – hose reels, hose, and spray guns – walking spray booms – as well as other user friendly options to personalize the system to fit your needs.