Accessories For Your SDI Sprayer
Walking Spray Booms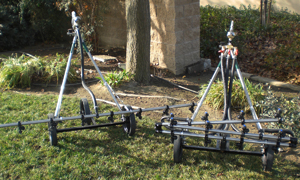 TURF WALKER WALKING SPRAY BOOMS
SDI builds quality, lightweight, walking spray booms with the Turf Walker tradename. Our tricycle gear Turf Walkers come in multiple widths and in regular or self-contained styles with semi-pneumatic wheels.
TURF WALKER 6.5 and TURF WALKER 10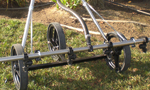 The SDI Turf Walker walking spray booms come in either a 6.5 foot or 10 foot width. This allows you to choose the width that offers you the most application flexibility. Engineered with the operator in mind, these units are configured with stainless steel and lightweight aluminum components for ease of operation. The handle is adjustable to best fit the height of the operator and the standard speedometer helps to maintain an accurate application speed.
TURF WALKER SC6 and Turf Walker SC10 (Self Contained Walking Spray Booms)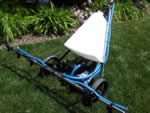 The Turf Walker SC is the newest walking spray boom offering from SDI. This unique sprayer is offered in two sizes with either a 5.5 gallon (Turf Walker SC6) or a 10 gallon polyethylene spray tank (Turf Walker SC10). Standard features include a 12 volt spray pump with rechargeable battery and a folding spray boom. The spray boom is 6.5 feet wide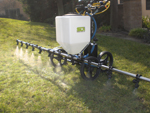 with 8 drip free nozzles on the Turf Walker SC6 model and 10 feet wide with 12 drip free nozzles on the Turf Walker SC10 . The SC10 has four wheels instead of our normal 3 wheel chassis to provide better manuverability with the added weight.